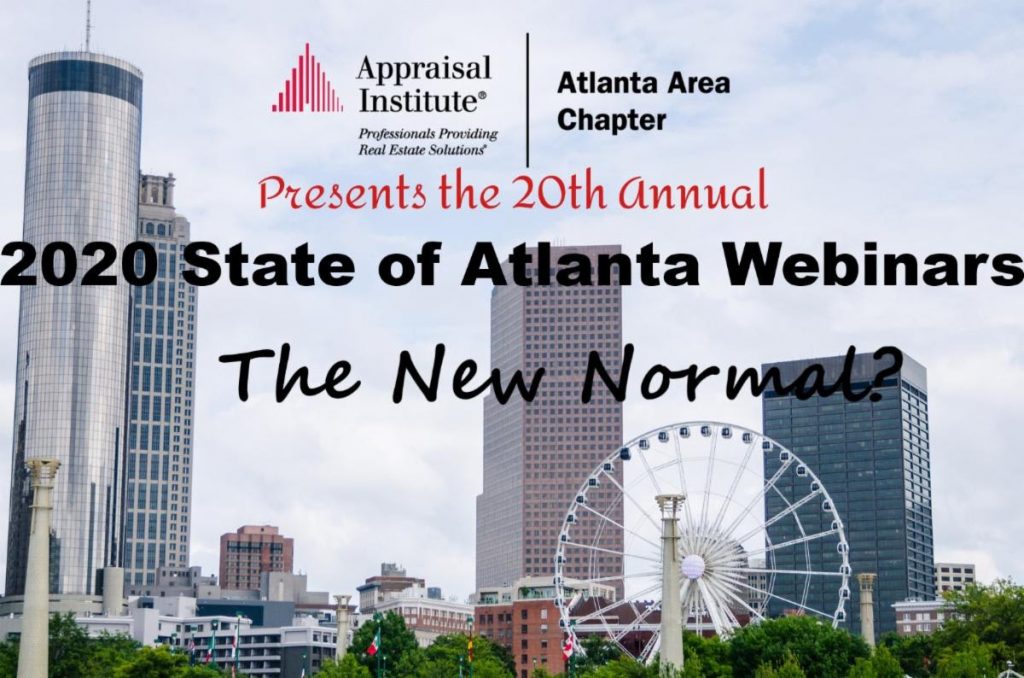 2020 State of Atlanta: The New Normal? (Part 2) By Henry J. Wise MAI, CBA, CRE and James Vernor PhD, MAI


The State of Atlanta conference was created by the Atlanta Area Chapter of the Appraisal Institute 20 years ago. Its purpose was to take advantage of the wealth of local real estate industry expertise and share it, in the context of a relevant current happening, with member appraisers, their clients, and other experts in the industry. This year's program committee was chaired by Sherry Watkins, MAI, past president of the chapter. This year's presentations were delivered virtually because of the need to socially distance to avoid the coronavirus. And they were divided into two halves. This summarizes the second half, delivered Thursday October 15, 2020. First, we'll introduce each speaker and then summarize their remarks which were well supported by PowerPoint slides.
Program Moderator: Jeff Miller, MAI, AI-GRS, CCIM, ASA, Sr. Managing Director, Valbridge Property Advisors.
Presenters:
Sim Doughtie, SIOR, CCIM, MCR, SLCR; President, King Industrial; speaking on the industrial market.
Thank goodness Sim Doughtie was on today's program. He gave us our first unabashed moments of joy as he reported on the industrial marketplace. This year we have had over 65.3 million SF of activity with a net absorption of 24.8 million SF. Wow! This is up from 48.6 million SF of activity from same time last year. We have only about 10.8% of our industrial space available and only 24.5 million SF of new space under construction, of which 65% is spec. Sales to investors have pushed CAP rates below 5%. It seems to be a great time to be in the industrial space business. His company has developed some high-quality data series which are well presented in his PowerPoints.
Stacy Watson, Director, Economic and Industrial Development for Georgia Ports Authority; speaking on ports.
Stacy Watson's introductory remarks constituted an eye opener for most of us. Few of us had recognized the $44 billion dollar impact that the Georgia Ports Authority [GPA] has on the State's economy (about 8% of the total), or the fact that it impacted more than 439,000 jobs in the state. Most of us did not know that there were inland ports in north and west Georgia. No wonder K.C. Conway always tells us to pay attention to information about shipping when we are studying the market dynamics that affect our Highest and Best Use analysis and support our economic forecasts. We were impressed by the fact that the GPA plans to invest $3.2 billion in new capital improvements over the next 10 years, up from $1 billion over the last 10 years. Given the growth in Georgia's economy spurred by the last 10 years activity flowing through Georgia's ports, the planned increase in spending by the GPA should be cited as support for expected future economic growth in our state, particularly in our industrial appraisal assignments.
Anne Sheehan, MAI, SRA CRE, CEO, President, Real Property Tax Advisors; speaking on property tax appeals. 
Anne Sheehan, MAI, reminded us that property taxes usually constitute the largest single item in a property's operating expenses, and that they do not vary with income. They are based "Ad Valorem" (on the value of the tangible real property and the personal property). Given that the millage rate in most of our metropolitan area counties ranges between 40 and 50 mills, property taxes really constitute an annual expense equal to between 1.6% and 2% of the fair market value of the tangible assets [50 mills assessed value with a 40% assessment ratio = 2% of 100% of FMV]. Anne reminded us of the importance of identifying and separating out the contributory value of any intangible assets, such as brand for a hotel or chain restaurant, or the contributory business value for a C-store, or the Certificate of Need and extensive trained workforce required for a nursing home or continuous care retirement community.
Luke Waters, Senior Director of Investment Sales, Sullivan Wickley; speaking on retail.
Luke Waters told us that for retail, we are already at the new normal, with low transaction volumes and low inventories of willing sellers. The gap between real estate buyer expectations and seller expectations is growing, with buyers looking for big discounts and only about 6% of sellers willing to budge on price. He pointed out that not everyone in retail has been hurt by Covid. Some "essential" stores, like Dollar General, experienced a substantial multiple of before-covid growth and prosperity, and these are the stores that are the current darlings for investors, which is why the CAP rates extracted from the relatively few recent transactions are among the lowest in history. This issue of having only a few transactions, and relatively low CAP rates from those few sales means that we appraisers must be particularly careful about the degree of comparability between the sales that did occur and the subject property. Luke explained that the present uncertainty surrounding the 1031 exchanges is really roiling the retail market, and, in his opinion, will affect all real estate property markets. Although his belief that the 1031 exchange was the essential lubricant required to make real estate markets work was not universally shared by other speakers, it is something about which real estate appraisers should be aware as a factor when we consider material changes in the marketplace
Charlotte Kang, MAI, Executive Vice President, JLL hotels and hospitality; speaking on hotel industry.
Charlotte Kang, MAI, like Anne Sheehan, MAI, is another of our Atlanta chapter members of whom we should be so proud. She has a wonderful knowledge of hotels, which is her area of specialty. Charlotte pointed out that although much of the hotel market is suffering existential losses in rate, occupancy and, consequentially, REVPAR [revenue per available room], not all properties are in the same boat. Demand for extended stay, transient, drive-to destinations, and economy properties has increased during the pandemic, proving once again the importance of market segmentation in our industry. The properties that are in the most serious difficulty are the former darlings of the market, the gateway (airport, etc.) hotels, the luxury hotels, the convention hotels and the leisure hotels, and they are experiencing the greatest drops in REVPAR and are probably at highest risk. The charts Charlotte included in her presentation show that REVPAR dropped by just under 85% from the week ending Feb. 8, 2020 to the week ending April 11, and as of October 10 appears to still be down by about 45%. At REVPAR decreases of this magnitude and with no end in sight, we wonder how these hotels are going to be able to pay their property taxes, mortgages, insurance and other similar fixed expenses. One small ray of light in Charlotte's presentation was her reminding us that Atlanta's approximately 100,000 hotel rooms are considered middle-tier, and that the impact on Atlanta's hotel market will be more like most of the country's. We are unlikely to be as badly damaged as Las Vegas, Miami, New York and other premier hotel markets.
Ellen Stern, Senior Vice President, CBRE; speaking on the office market.
Ellen Stern is CBRE's expert on tenants in the office market. She asked us to consider three questions as we try to understand the office market affected by Covid-19. (1) What are tenants doing? (2) What are the market impacts? (3) What is the likely future? Her answer to the first question is that tenants are kicking the can down the road. Deal volume for 2020 Y-T-D is down by 63%, from 293 deals in 2019 to 107 in 2020. Many tenants are trying for short term extensions. Most of the deals have been in the suburban market than in the CBD markets, and more of the deals have been for smaller spaces in the 2,000 SF to 8,000 SF range. However, only 10 properties have announced any decreases in quoted rates. However, according to Ellen, office is not dead. There are six factors that she believes are market drivers to which we should pay attention as we appraise office buildings: (1) Dedensification; (2) Hub and Spoke approach; (3) Remote working doesn't work for everyone or for all circumstances; (4) The need to recruit and maintain talent; (5) Building brand and corporate culture; and (6) Mentorship. Ellen stated that the Sunbelt in general and Atlanta in particular remain attractive areas for corporate relocation, and that she expects both the in-town and suburban markets will be hot markets as we recover from the pandemic. However, we are sobered by Ellen's observation that the pandemic has highlighted the extent to which yesterday's solutions like the high-speed large-cab elevator that made possible the high-rise office and apartment buildings are the cause of today's functional obsolescence. Ellen cited the example of one large building which, if limited to four people per elevator cab, would take five hours to fill or empty.
Lee Cuthbert, Location Specialist, Film Video and Music for Georgia Department of Economic Development.
Lee Cuthbert also spoke to us about the Georgia film industry from a place of comfort and confidence. She pointed out that from 2007 to 2019 direct spending from the film industry in Georgia has increased by 2100%. In FY 2019 there were 399 shows filmed in Georgia. We now have over 3.2 million SF of stages, with over 1 million SF of that purpose built, and almost all of our stage space is booked. Some of the keys to the success of the industry in Atlanta are: development of economic development bond financing as inducements for producers; a wide variety of environments to look like other places in our country; a deep and skilled workforce (with high salaries); and empty real estate after the 2008 market distress. One of the most impressive indirect and lasting economic benefits from the growth of the film industry in Georgia is the impact of film tourism on communities like Conyers, Covington and Savannah. Lee pointed out that when "The Walking Dead" began filming in Senoia there were six open stores along Main Street. Today there are 85 open businesses, and the before and after pictures in her presentation are dramatic.