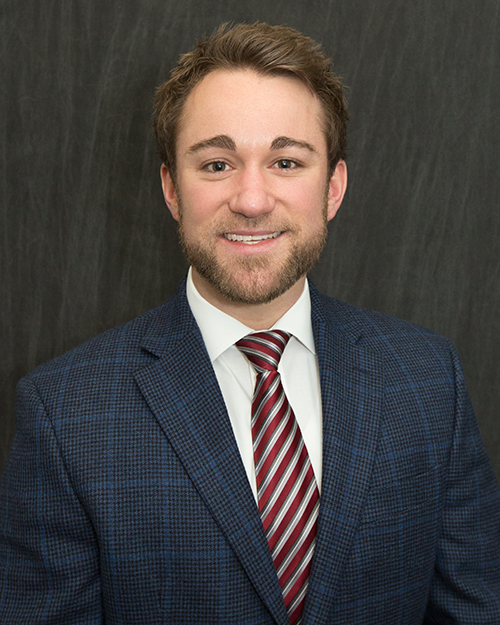 Brian Bratton, a sales associate with King Industrial Realty, excels at one thing many people avoid: picking up the phone and calling a potential client you've never talked to before.
"I've never seen anybody do a better job of cold calling," said Sim Doughtie, president of King Industrial Realty Inc. and CORFAC International. "He's very disciplined and stays after it. He has no fear. So it's been very successful for him. He's always putting things in the pipeline."
Thanks to his skills at bringing in business, Bratton has been named Rookie of the Year by the Atlanta Commercial Board of Realtors for 2019. The award is given to brokers who have been in commercial real estate for up to three years and have amassed the highest volume of sales transactions.
Bratton said he was drawn to the industrial side of commercial real estate "because of the scale and excitement of the deals as opposed to office or retail leasing," he said. "Plus, I get to see and learn about so many different and interesting types of businesses that otherwise you would never get to experience in any other field."
After joining King in 2017, Bratton heeded the advice of the seasoned professionals there.
"Everything is about the phone. You've got to dial away," he said he's learned. "So many people have call reluctance and they won't pick up the phone. It was just amazing to me that there's so many deals out there to be had. I called some people who would say, 'You're the first guy that's ever called me.'"
Cold calling, as its known, requires determination to keep going, knowing that few of those calls will result in deals. Bratton, however, said he sees those phone rejections not as "no", but as "not now."
"I've called people and four months later they tell me they're ready to sell," he said.
At King, Bratton has been involved in projects worth more than $80 million, said Doughtie, adding that "that's pretty unusual for somebody that young and that new in the business."
A big part of Bratton's plan for success is proving he is a true professional. To that end, he's pursuing the Society of Industrial and Office Realtors (SIOR) designation.
"Being an SIOR means you are the best of the best," said Bratton. "When clients and other brokers see those four letters after your name, they know that they are dealing with a professional of the highest caliber and that in any situation, you will do the right thing."
He's been a SIOR member associate for the past year and during that time, he added, he has made valuable connections and relationships. Earning a SIOR designation requires experience, education and commitment to ethics, Bratton said, and honorees must be consistent top producers in their areas.
Bratton called King Industrial Realty Inc., a professional home, as well as a place he receives mentoring and support. "I felt like there was a lot of talent here, a lot of people that I could learn from," said Bratton. "King was going to give me the tools to be successful and invest in me and my future, and it just felt right."
While he has been involved in bringing in a large amount of business, he said he does not consider any one deal his biggest success.
"Very rarely is there an 'easy' deal. A lot of times, the small deals can take more time and be more difficult than the big deals," Bratton said. "Every deal has its own quirks and obstacles. You have to work through making each deal different from the last. So, when I get the latest deal across the finish line, that to me is my new 'biggest success' until the next one."
Press: https://www.bizjournals.com/atlanta/news/2020/03/15/million-dollar-brokers-brian-bratton-hones-his.html